Meet the people behind PAWS Hospital
Dr. Lisa A. McMahan, DVM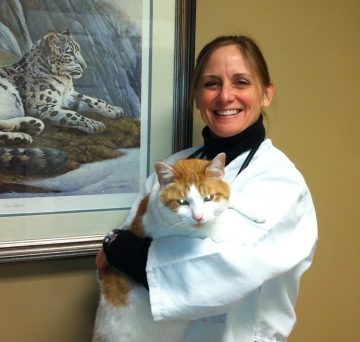 Dr. McMahan graduated from The Ohio State University College of Veterinary Medicine in 1995 with a Doctor of Veterinary Medicine degree. After graduation, she did an informal internship for one year at the Veterinary Internal Medicine Clinic. In 1996, she began working at Madeira Veterinary Hospital and remained there for 13 years until leaving to open this practice in 2010. Prior to her veterinary career she earned a nursing degree from the University of Cincinnati. She worked as an RN mainly in the operating room and helping teach laparoscopic procedures. Besides veterinary medicine, Dr. McMahan's interests include her family, gardening and her pets.
Charity Lockard, Registered Veterinary Technician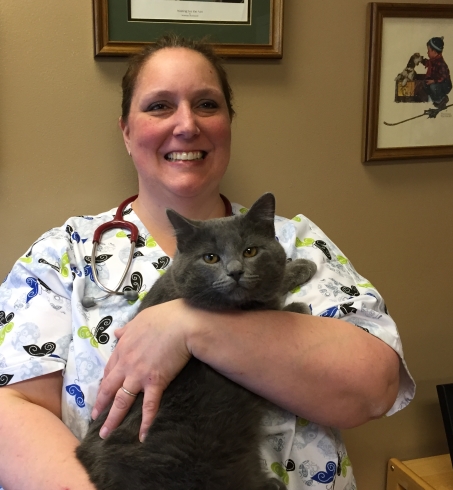 Charity has been a Registered Veterinary Technician since 2001. Charity graduated from Wilmington College in 1999 where she obtained a B.S. with a concentration in animal science. She then attended the veterinary technician program at U.C. Raymond Walters and graduated in 2001 as an RVT. Charity and her husband Jeff have a house full of furry family members including; 4 dogs (Meredith, Murphy, Rumpke and Wrangler), 6 cats (Jethro, Hunter, Runner, Doc, Smoke and Shake & Bake) and 3 horses (Spring the quarter horse, and miniature horses Pumpkin and Gomer). In her spare time she enjoys going to museums, car shows and reading.
Chrissy Fogel, Veterinary Assistant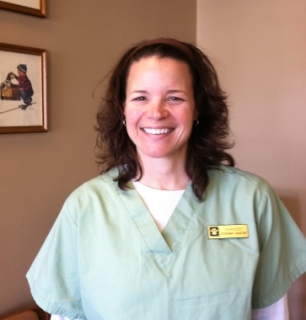 Chrissy has worked at PAWS Hospital as a Veterinary Assistant since spring 2012. Prior to that she was a Cincinnati Police Officer from 1997-2005. Chrissy loves working with animals and spending time with her family (Ian, Kian, Allie, Gwen, Catrin & Mollie), and dogs (Hercules, Jessie & Carson). Chrissy is also very active in all of her families' school activities and weekend sporting events.
Wm. David McMahan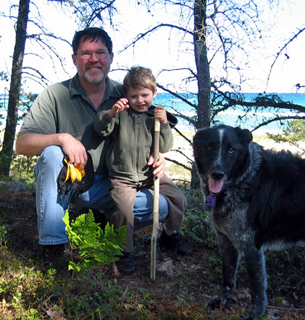 Lisa and Dave met in 1998 and they married in 2000. At the time they had no idea that they would someday work together in the same business, but as fate would have it... Dave handles the front office duties and is the chief cleaner upper. "If it doesn't require me to put on a white coat and stethoscope, I'm on it". By night, Dave is a musician and besides having his own jazz ensemble and doing solo piano gigs, he is also a member of Cincinnati's longest running party band, the Modulators. The cute one is their son Christopher and the furry one is Hobie, who was the best dog in the world.
Roxanne Reiter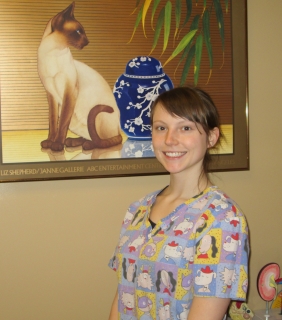 Roxanne has worked at PAWS Hospital as a Veterinary Assistant since Summer 2011. We were thrilled when she was accepted to The Ohio State College of Veterinary Medicine where she is currently pursuing her veterinary degree. During her breaks, Roxanne still fills in at PAWS. While working towards her bachelors degree, she had the unique opportunity to study wild bats and their ectoparasites in the jungles of Costa Rica. Outside of work, Roxanne spends her free time volunteering at a cat shelter, pet sitting, enjoying the outdoors, and playing with her two cats, Baker and Cupcake.